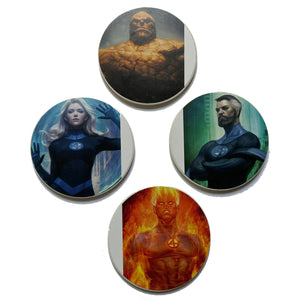 Attention Customers near Uniondale, NY:
You now have the option to enjoy free shipping by picking up your purchase in person! Use the code "PICKUP" during checkout to eliminate shipping costs. This offer is exclusively available for those in proximity to Uniondale, NY. Thank you for your support, and we can't wait to serve you.
Introducing our remarkable collection of completely unique handmade decoupaged coasters!
Each coaster is meticulously crafted using real authentic comic book panels, ensuring that every piece showcases the captivating essence of the comics. These coasters come in sets of 4, perfect for adding a touch of comic book flair to your home decor. However, if you prefer individual coasters or have specific customization requests, we are more than happy to accommodate your needs. Simply reach out to us on Instagram @NebuladGraphics or via email at nebulad@gmail.com for custom orders.
Our ceramic coasters are designed with precision, measuring a standard size of 4" x 4" with a thickness of 0.25". The meticulous mold design and production result in coasters that boast smooth edges and a pleasing matte effect on all sides.
Elevate your living space with these exceptional decoupaged coasters, combining functionality and artistic expression. They make fantastic conversation starters and unique gifts for comic book enthusiasts or anyone with an appreciation for handmade craftsmanship.
Don't miss out on owning these stunning coasters. Order yours today and experience the perfect blend of comic book artistry and practicality.
Note: Each coaster is handcrafted and may exhibit slight variations, making them truly one-of-a-kind pieces of art.