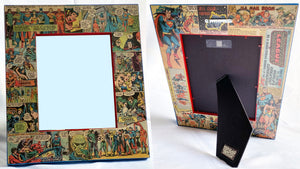 Attention Customers near Uniondale, NY:
You now have the option to enjoy free shipping by picking up your purchase in person! Use the code "PICKUP" during checkout to eliminate shipping costs. This offer is exclusively available for those in proximity to Uniondale, NY. Thank you for your support, and we can't wait to serve you.
Introducing our completely unique handmade comic book frames! Each frame is meticulously created using real comic book panels, handpicked and arranged in a one-of-a-kind design. These frames make fantastic gifts for any superhero fan, allowing you to showcase your favorite characters and treasured photos in an epic display on your wall.
Don't wait, place your order now! Each frame is a unique piece, and they sell out quickly. For custom orders, reach out to us on Instagram @NebuladGraphics or via email at nebulad@gmail.com, or nick@nebulad.com.
Our large frames measure 15.5" x 13.5" with an 8" x 10" photo insert. Medium and large frames come with a mirror insert, providing an alternative option if you prefer not to use a photograph. 
If the frame you desire is currently sold out, don't worry! Get in touch with us, and we'll gladly work with you to create a brand new, specially tailored frame just for you.
Thank you for choosing NebuladGraphics. We appreciate your enthusiasm for our and look forward to crafting something extraordinary for you.